Not everyone who submits a project to the Project of the Year Awards gets recognized. This year we saw close to 50 entries, among which we selected 27 across six categories for the online vote, leading to the six winners we just featured.
So no, not everyone gets a trophy … but we do think a few more projects deserve trophies. We're a staff of millennials after all.
Welcome to the Editor's Choice portion of Projects of the Year. We are not solar pros out in the field, but we do write about dozens of solar projects every week at solarbuildermag.com. We have a feel for what's fairly routine and what's unique, impactful or notable. The following projects were nominated for our Project of the Year Awards, didn't win the reader vote, but caught our collective editorial eye — for reasons ranging from impressive installation work and use of public sites to utility and grid-scale innovations that could be harbingers of big change down the road.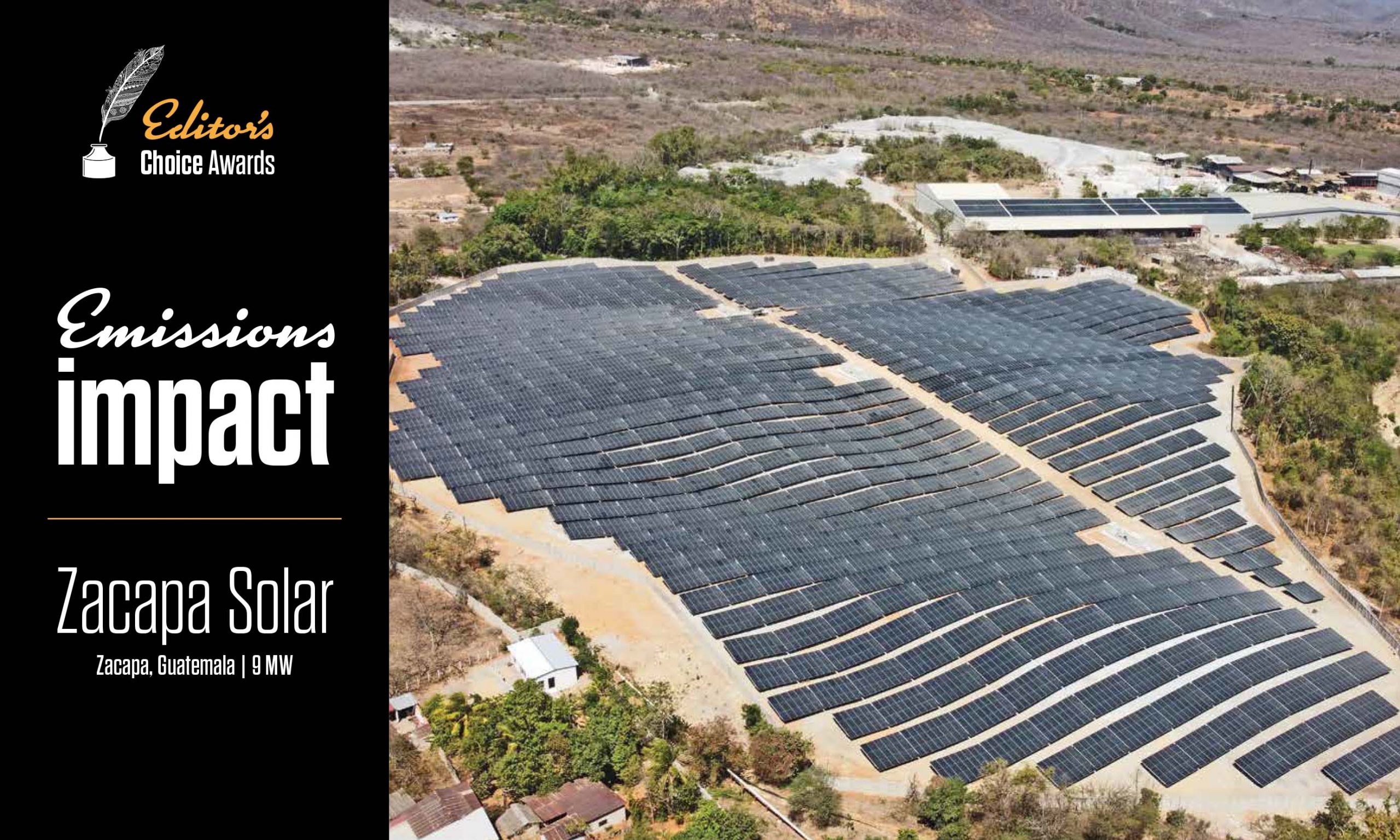 Zacapa Solar
Zacapa, Guatemala | 9 MW
Developer: Kruger Energy | EPC & Installer: Isotron | Modules: First Solar | Inverters: Power Electronics | Mounting: Solar FlexRack
Stable electricity prices are critical to economic growth in Guatemala, particularly given the country's large electricity price fluctuations and inflation recently reaching an 11-year high. In addition, roughly 40 percent of Guatemala's electricity comes from fossil fuel-based generating plants. The 9-MW Zacapa Solar project is a great step in the right direction. It is the largest behind-the-meter distributed solar generation project in Guatemala and will provide power to a paper manufacturing business at a predetermined cost for the next 35 years — an impressive commitment for one commercial customer. The project itself faced myriad challenges, from high heat to rolling hills, some of which were greater than 15 percent.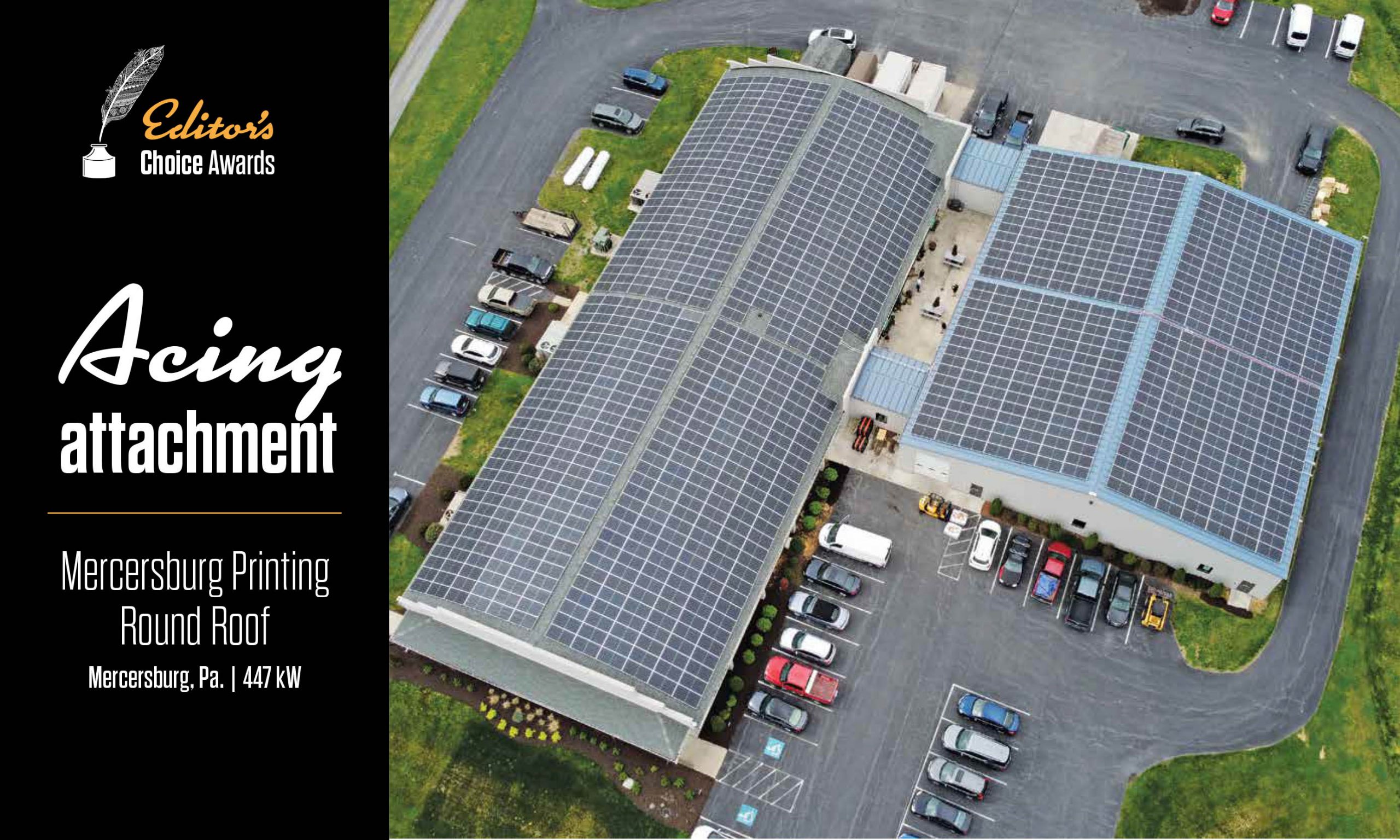 Mercersburg Printing Round Roof
Mercersburg, Pa. | 447 kW
Developer & Installer: Paradise Energy Solutions | Modules: Axitec Solar | Inverters: SolarEdge | Mounting: IronRidge
The Mercersburg Printing project, consisting of two rooftop arrays, makes our list for the ingenuity of its installers. First, Paradise Energy Solutions had to sell the owners on the value of solar: "We hadn't really seriously considered solar all that much," says Doug Shenberger, owner and president of Mercersburg Printing. "Honestly, I wasn't tremendously convinced it was going to be something that was a great option for us." Then, there were all sorts of challenges to overcome. The most visible problem was finding a way to attach rectangular solar modules to an old building with curved wooden trusses covered by a round shingle roof.  During installation, the crew used string lines, levels and a little bit of creative spacing to help blend the flatness of the modules along the curved contour of the roof to yield an aesthetically pleasing final product. In contrast, luckily, building No. 2 on the site had newer, pre-engineered steel trusses with a standing seam metal roof.  On the electrical side, due to project size, the utility required a redundant utility-grade intertie protective relay to be installed in the event of a problem with the grid. A panel shop was selected to build the cabinet to house the relay and supporting hardware and help install and commission the relay with the solar equipment.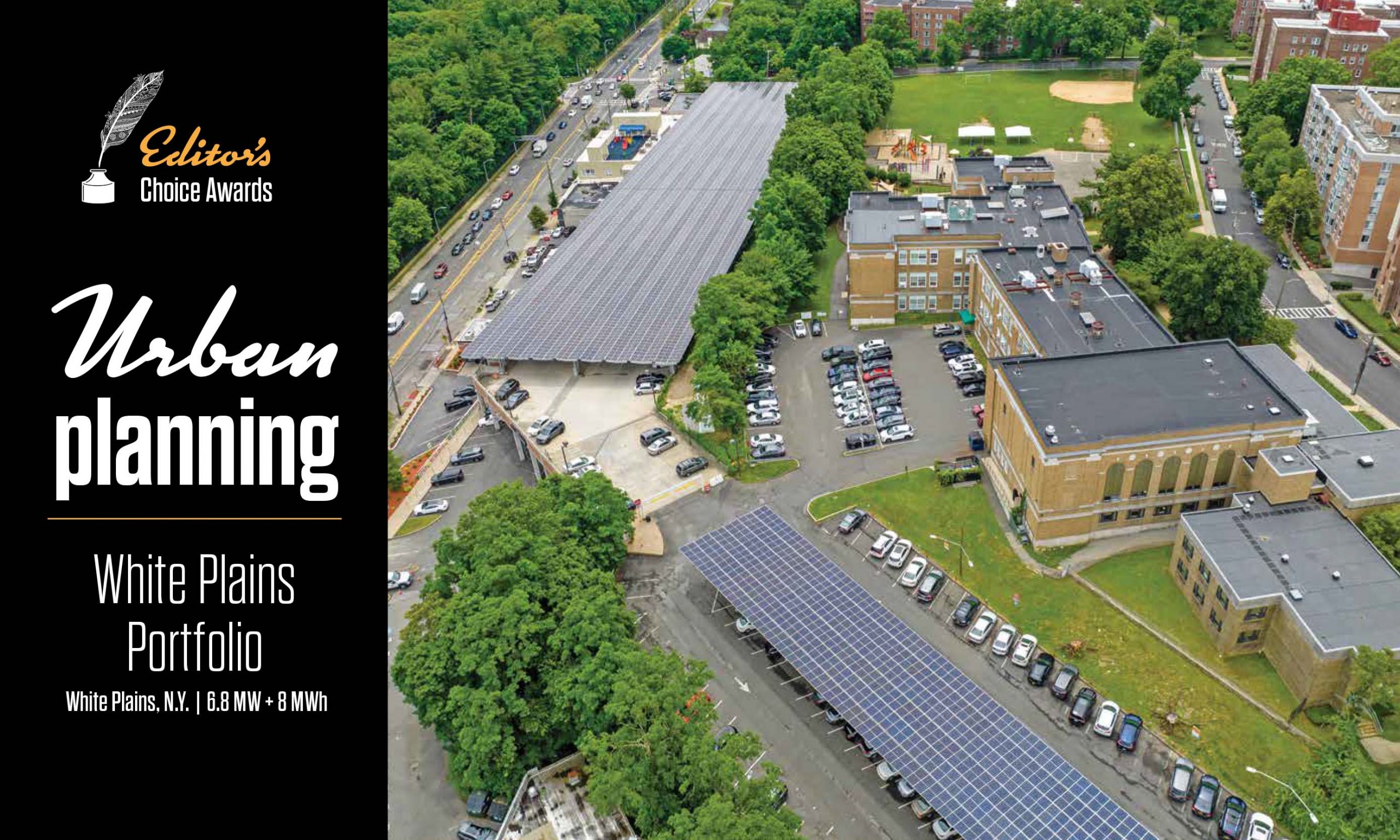 White Plains Portfolio
White Plains, N.Y. | 6.8 MW + 8 MWh
Developer: DSD Renewables | EPC: Distributed Solar Operations LLC | Installer: Bullet Electric | Modules: Qcells | Inverters: SMA | Storage: Tesla | Mounting: DSD proprietary canopy design, IronRidge
This nine-site, 6.8-MW community solar municipal portfolio stands out for the sheer variety of buildings and locations identified as PV and storage sites. The projects include a mix of canopy, rooftop and ground-mount solar systems and energy storage installations at four of the city's parking garages, a park, an ice rink, a recycling facility, a water storage site and a sanitation complex. Bonus points for utilizing so much urban infrastructure for a community solar portfolio in a densely populated area. Developer DSD worked closely with the city throughout the entire design and development process to navigate obstacles such as re-routing parking, periodic road closures, material storage restrictions, etc. In fact, several infrastructure improvements were incorporated into the portfolio that helped the city avoid significant capital spending. The city serves as the community solar anchor, receiving annual energy savings, and is also expected to collect more than $20 million in rent over the 25-year term from hosting these installations, which they plan to reutilize for advancing sustainability initiatives and infrastructure for the city. The New York Power Authority (NYPA) was the city's energy advisor for the projects.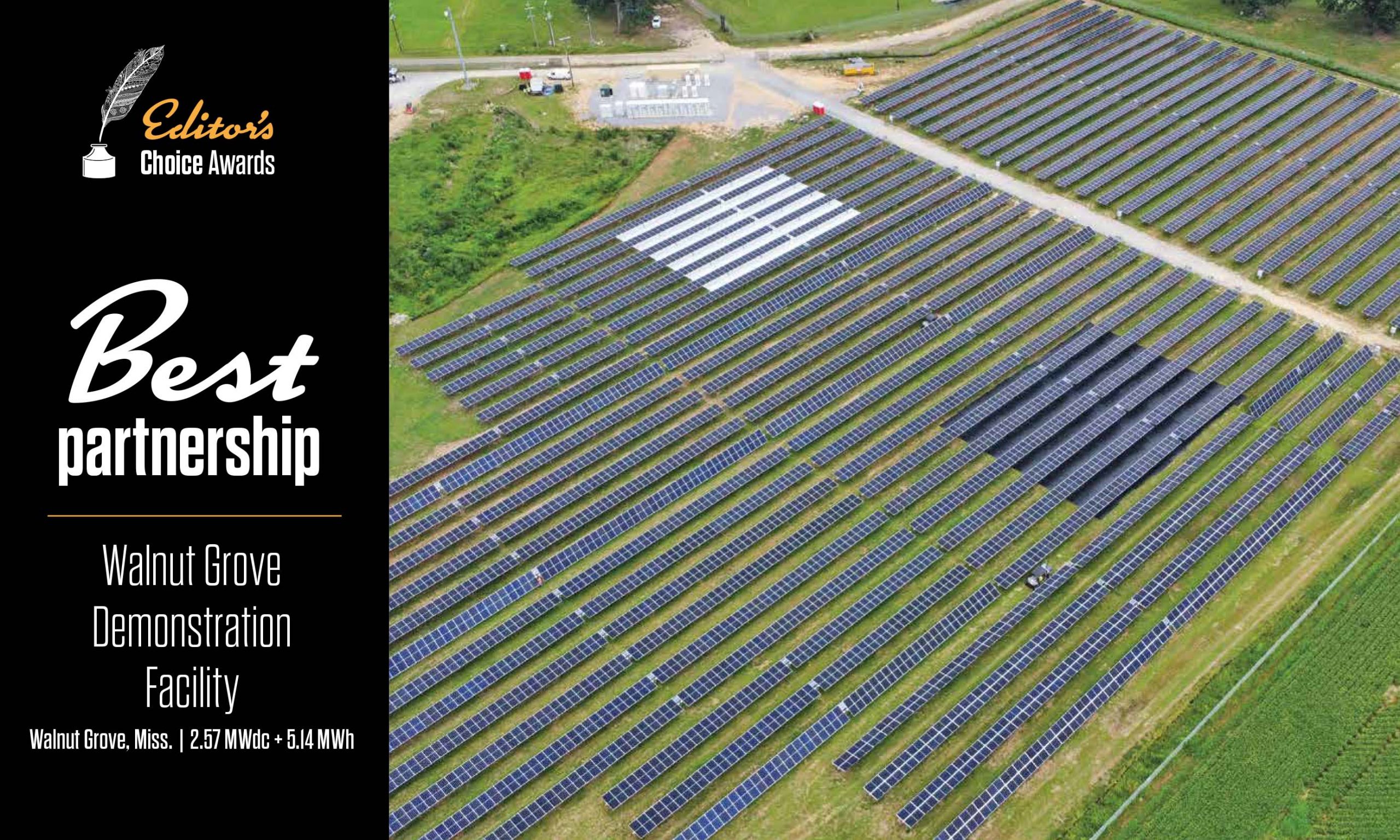 Walnut Grove Demonstration Facility
Walnut Grove, Miss. | 2.57 MWdc + 5.14 MWh
Developer: Southern Company | EPC: Asset Engineering & Axis Energy, Inc. | Installers: Axis Energy, Jones Power | Modules: Qcells | Inverters: Dynapower and Alencon | Storage: LG Energy Solutions | Mounting: OMCO Solar
The Walnut Grove project was a joint venture partnership between Asset Engineering in Canton, Miss., and Axis Energy in Holly Springs, N.C., and is the first microgrid project of its kind in the state as well as the first MPC-owned solar + storage project. The design consists of a primary PV array and six test block arrays, each equipped with a dc-dc converter and a unique design aspect. Test block configurations varied in kW output and were designed/constructed to test efficiencies between bifacial and monofacial modules, 1 high in portrait vs. 2 high in landscape and the use of dc optimizers. This project was also featured in an episode of our EPIC Projects video series.
Kennard Resiliency Project
Spring Branch, Texas | 19.2 kW
Installer: Solar Edge Pros | Modules: JinkoSolar | Inverters: Enphase | Storage: Enphase (batteries) and Generac (generator) | Mounting: IronRidge
This project is cool for a couple of reasons. One being the home was constructed with solar panels in mind; the wiring (and metal piping) was done within the wall so no visible piping and the solar panels are facing. The second is its backup and resiliency capabilities. After the disastrous Texas winter storm in 2021, these homeowners were not going to suffer the same consequences again. They not only added solar panels but three backup batteries and a generator. The larger, utility- or corporation-driven projects get most of the headlines, but projects like this highlight a core solar value: localized energy independence.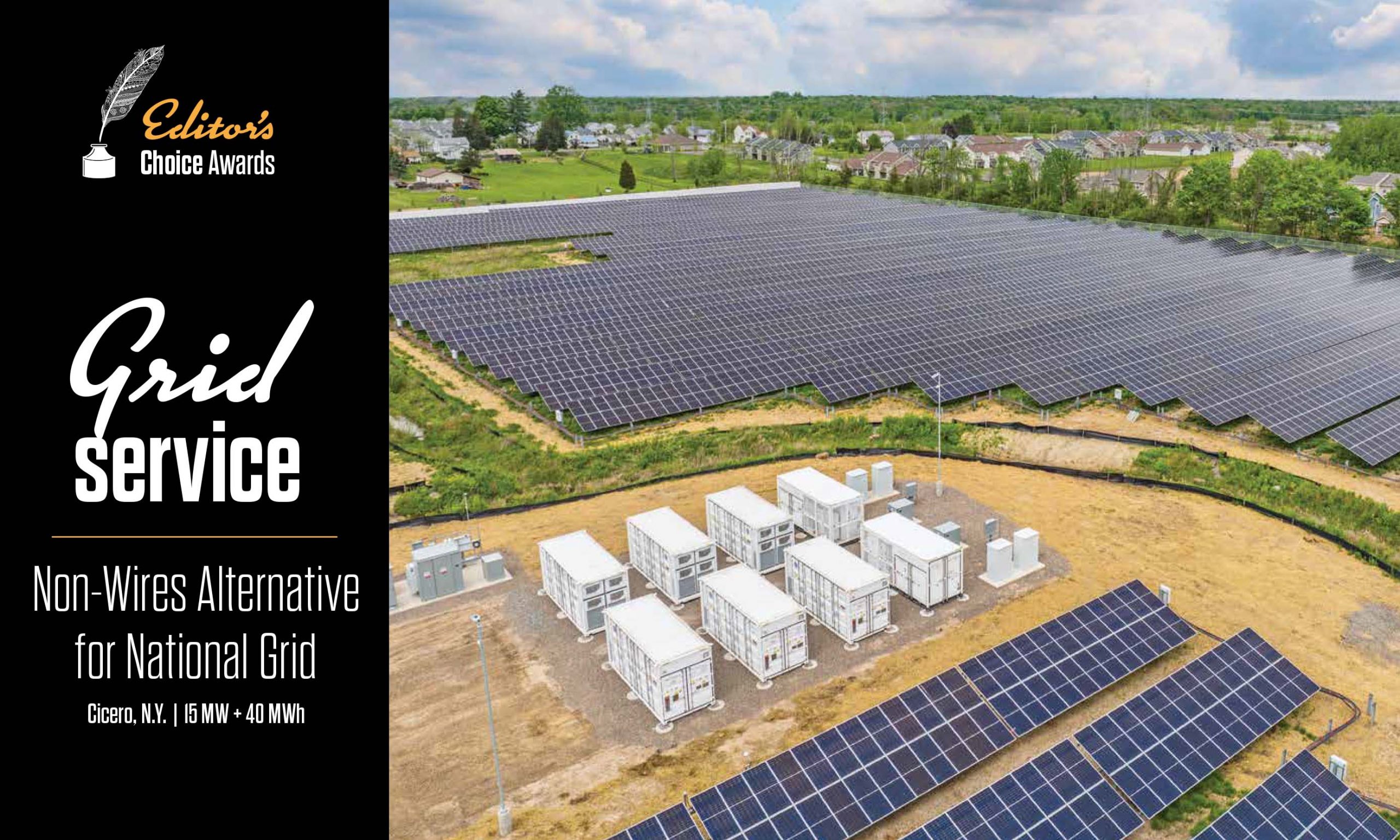 Non-Wires Alternative for National Grid
Cicero, N.Y. | 15 MW + 40 MWh
Developer: Convergent Energy + Power | EPC & Installer: CS Energy | Modules: Qcells | Inverters: GE | Storage: GE | Mounting: Terrasmart
This is one of just a small handful of projects in the United States to utilize batteries as non-wires alternatives (NWA) to more expensive transmission and distribution upgrades. It is the first known project to use solar energy to charge the batteries that provide the NWA. This solution serves as an innovative, trailblazing model for how utilities can leverage solar + storage to forego typical upgrades, improve grid reliability and reduce dependence on gas-fired peaker plants. The system increases the substation's capacity cost-effectively, while increasing the amount of renewable energy used in the area. It also uses satellite technology to monitor and remotely manage the solar and energy storage assets to optimize operability and efficiency long-term. This project is also a proof of concept for a more efficient, market-based model of construction-to-term financing for utility-scale solar + storage projects across the nation.