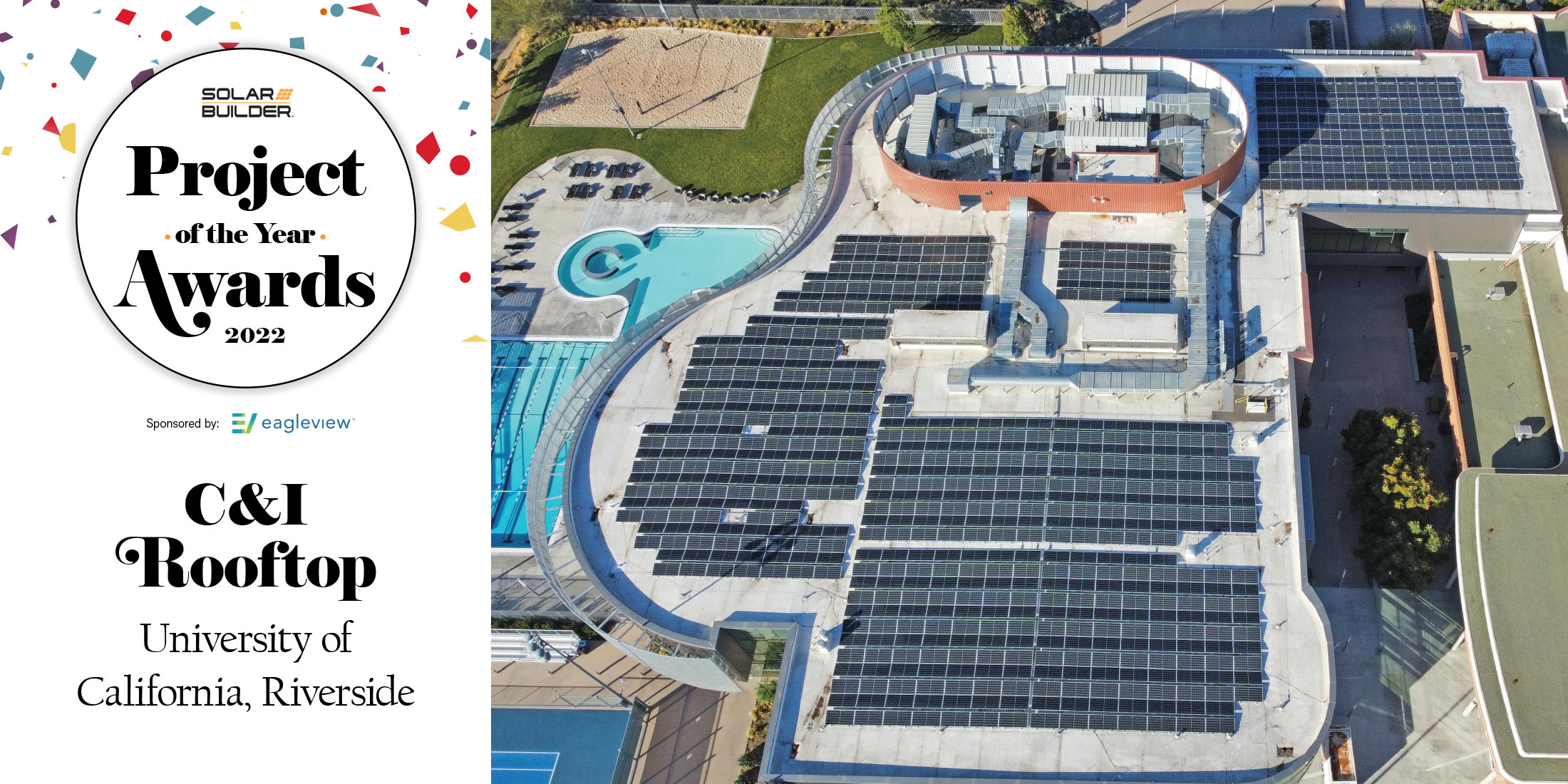 University of California, Riverside
Riverside, Calif. | | 474 kW
The University of California, Riverside project winning the C&I Rooftop Project of the Year is a real win for installers and engineers who encounter all sorts of complications on each project and must get creative to find solutions that meet or even exceed customer objectives.
Stronghold Engineering Inc. was hired by the University of California, Riverside to design, construct and install a PV system on two large, targeted campus buildings: the Student Recreation Center, with a total rooftop area of 47,400 sq ft, and the Student Services Building, with a gross rooftop area of approximately 17,850 sq ft.
The stated goal of the project: Utilize the existing roof footprint of each building to provide the maximum generation possible while preserving the existing architectural characteristics and minimize the overall impact on the building.
SEI was the perfect fit for the task because solar is just one (somewhat smaller) division of many under its roof.  Any issue that emerges beyond the scope of a PV install, SEI can readily handle. "What's really great is we all team together, so we get on a job and we pretty much have it covered," says Kevin Goetz, solar manager at Stronghold. "Trenching? Not a problem. Masonry work, and so on. It all goes seamlessly."
This Project of the Year is a real showcase of that problem-solving in action.
Roof retrofits
To accomplish the stated objectives, Stronghold initially proceeded with a roof retrofit after determining that some areas of the roof, previously thought to be impractical for array placement, could be utilized if the roof was retrofitted to support the increased weight.
"On the one roof, the structural engineer identified one area that needed work," Goetz recalls. "We ended up sistering on a girder that had to be welded on to beef it up. We did all of that from underneath — thank god most of that roof is open beam, so it was minimal impact."
Another wonky complication was the inconsistent placement of the stainless steel lifeline cable that went around the perimeter of the roof.
"That inhibited our placement of the modules. We had to relocate some of these [lifeline] posts, and they are hard to relocate because they have to set on a beam and be welded on there," Goetz says. This also required extra work underneath the roof to install diagonal bracing. "That was a lot of standby time."
All of this extra work retrofitting the roof paid off in more usable space for PV than was originally anticipated.
Maximizing PV
To maximize power density and enhance the aesthetic appeal with "not much of a parapet wall," SEI selected 435W solar panels mounted on a dual-tilt, east-west facing system.
The panel's low tilt angle of approximately 10 degrees minimized inter-row shading, allowing rows of modules to be mounted closer together and thereby maximizing available array capacity. The low profile of the panels keeps them mostly out of view from the ground.
"We did several designs in Helioscope, and we saw with east-west, we could get 50 more modules on the roof — that's 12,000 more kWh a year," Goetz says. "Sometimes it doesn't work that way [with east-west]. But what helped us is there's a big curtain wall around all the AC units. That thing is about 15 ft high. On the northwest side, the array would get a lot of shading [with south-facing] because it's so tall. But when you go east-west, it somewhat mitigates that."
The east-west array configuration also reduces the chances of wind damage (as wind passes over and through the system more easily than with south-facing arrays), which was a concern for the university based on its windy location near the base of the Box Springs Mountains.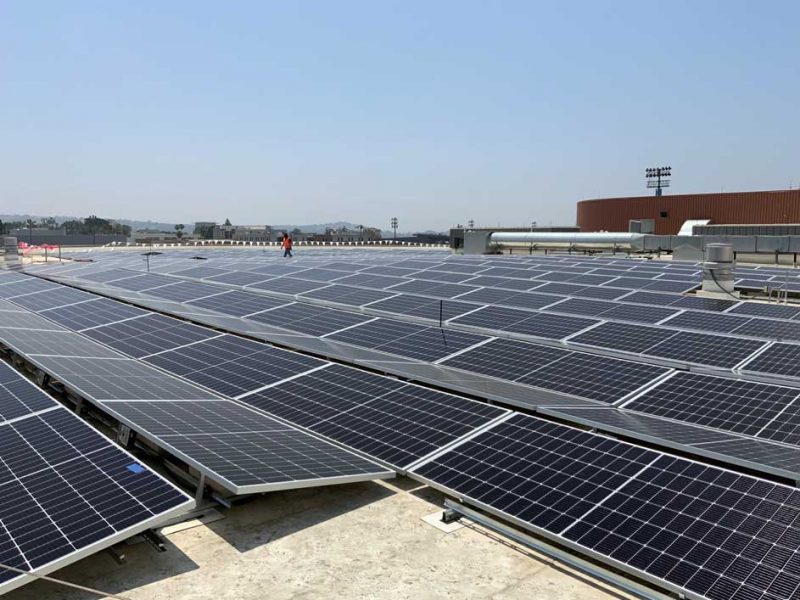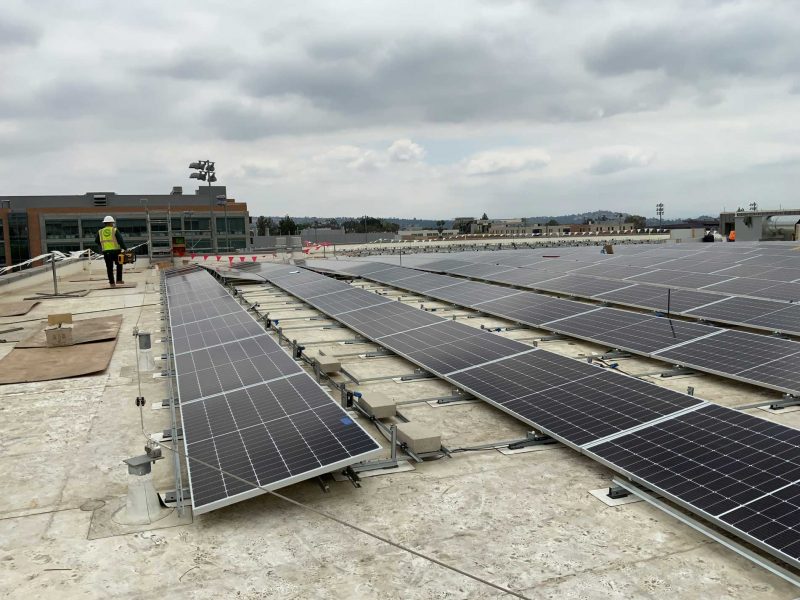 Designing for O&M
That aforementioned wall around the AC units was also a handy location for SEI's centralized electrical plan. Goetz explains:
"We tweaked the design a little bit. The inverters were going to be located throughout the arrays, but we like to design our systems with O&M in mind because we do a lot of the O&M on the projects we put in. And I think good O&M starts in the system design phase.
"We decided to mount all the equipment centrally. We built a rack right up against that duct work because it's not open roof space right there, and it's also close to the roof access. It's a TPO roof, so if I need to do anything, it's right there. And it's also out of the sun because [the inverters are] facing north and are kind of shielded from the back [by that structure].
Engineers recommended more structural work for that solution too, so SEI attached stanchions from underneath.
From beginning to end, SEI uncovered issues and had solutions at the ready (that sometimes resulted in their own issues that required new solutions) and delivered two standout projects that will help deliver on the university's clean energy goals — and all within that tricky university schedule where "you don't just have free access to say 'hey I'm going to get the crane in there today and hoist it up,' but they were really good about all of that," Goetz notes.
Passersby might not be able to see this project from the sidewalk, but the hard work stands tall as Solar Builder's C&I Rooftop Project of the Year.