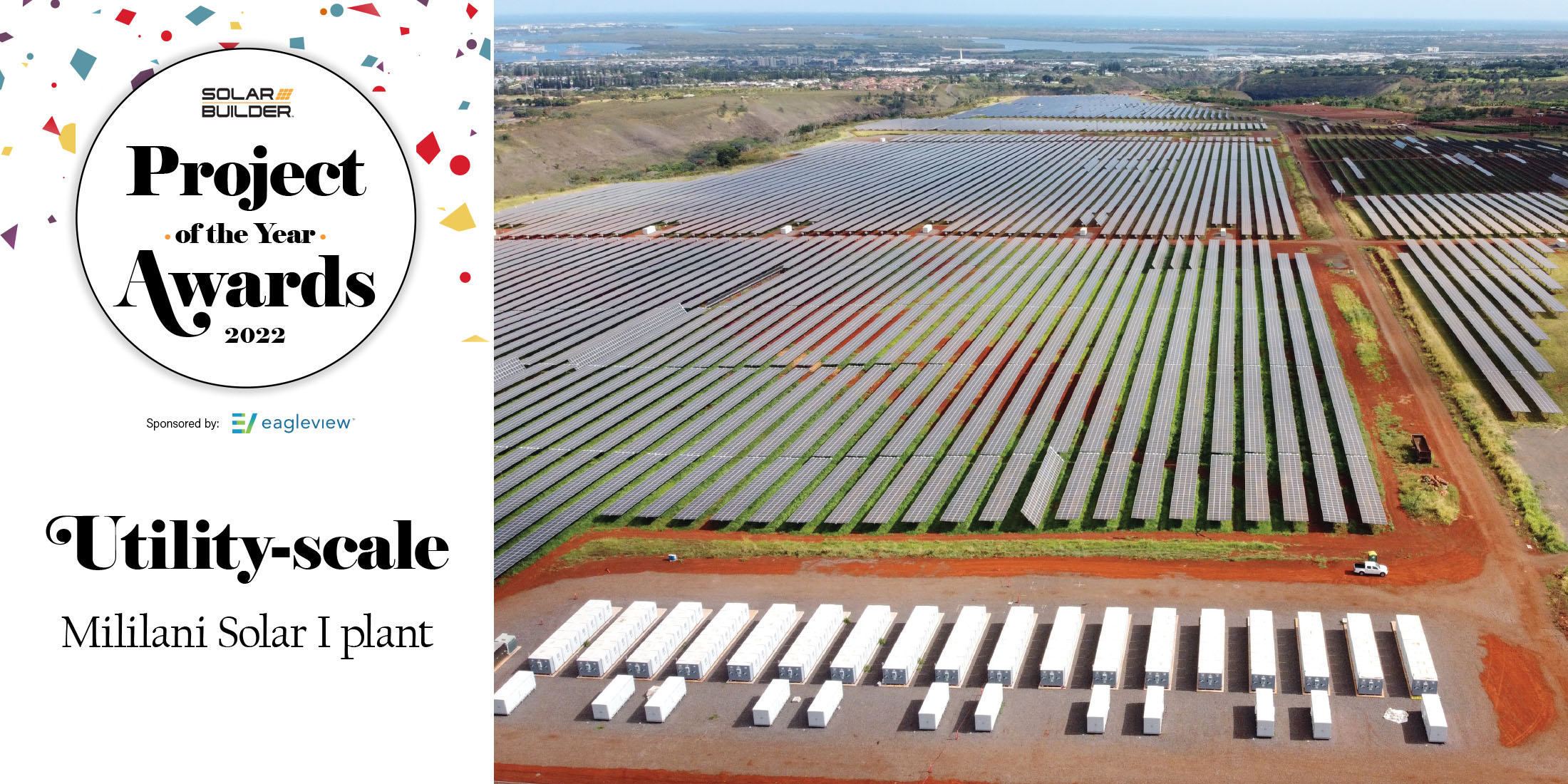 O'ahu, Hawai'i | 39 MW + 156 MWh
The stakes were high for the Mililani Solar I plant: O'ahu is the most populous Hawaiian  island, urgently needed an infusion of clean energy to replace power provided by a 180-MW coal plant (the last such plant on the island), which Hawaiian Electric was decommissioning in September.
Not only did Clearway Energy Group and Moss deliver the island's first utility-scale + storage project on time — they actually finished a full month ahead of schedule.
"The first key decision point was when the Hawai'i Public Utilities Commission and the Hawai'i State Energy office called on industry and Hawaiian Electric and stakeholders to propose solutions to this impending reliability crunch on O'ahu," says Nicola Park, origination manager with Clearway Energy Group, of the special circumstances. "And at that point, Clearway, in partnership with Moss and our suppliers, really dug deep on the analysis on ways to accelerate the project schedule."
Mililani Solar I is only about a quarter of the capacity of the retired coal plant, of course, however …
"It offers a lot of great benefits and services in terms of flexibility to respond to the grid that the coal plant wasn't capable of providing," Park notes, "as well as shifting daytime production of solar into the evening, not to mention all the environmental health benefits due to improved air quality from not burning coal."
Here's how it came together.
Project history
The Mililani Solar I plant certainly seems an unlikely candidate for coming online ahead of schedule due to its long stop-and-start development history. The parcel, once farmed for sugar cane was acquired for solar development nearly a decade ago by First Wind. Before long, that company got acquired by SunEdison. After SunEdison imploded, independent power producer NRG acquired the rights. Fund manager Global Infrastructure Partners swooped in to buy up NRG's renewable development assets, spinning off Clearway Energy Group in 2018.
Over that time, Mililani has been "reimagined and improved and changed a few times and was in advanced stages of development by the time it was priced and bid into the 2018 stage one Hawaiian Electric RFP," Park explains.
The result is a project that offers the lowest price per kWh among O'ahu renewable energy projects currently under development or awaiting regulatory approval. The price of its energy is a third of the cost of fossil fuels on the island. "One major cost advantage of solar and storage is providing  long-term fixed pricing for 20 years versus all the volatility we've been seeing in the fossil fuel markets that customers were otherwise exposed to."
(By the way, Clearway currently operates 149 MW of solar in Hawai'i and is now the fifth largest renewable energy developer and operator in the country with 8 GW of energy assets.)
Getting it done
Getting a utility-scale solar + storage project done on time in the Covid / supply-chain-issues era that we've been in is challenging, if not impossible — and the Mililani Solar I project had its share of curveballs.
Hawaiian Electric cooperated with Clearway to support adjustments in the commissioning process between milestone events and executed a price and schedule amendment to the PPA.
"We got the prompt support of the commission, and then we began to incur reasonable costs and take some reasonable risks in terms of accelerating equipment deliveries or planning for equipment contingencies," Park says.
Personnel shortages were less than anticipated, reports Josh Meyers, VP of Hawai'i energy with Moss. "We just had to get creative and be on top of our game in terms of [Covid] protocols."
The biggest challenges were definitely shipping related. Clearway worked overtime with PV module manufacturers to avoid delays, but some delays were inevitable. For the Moss team on the construction side, that meant "sequencing and phasing work, so that as soon as we had modules to install, we had people ready to install them," Meyers explains.
One of the larger success stories according to Myers was overcoming a tracker power supply swap after tracker foundations were already in the ground.
"Nextracker identified component delays related to the power supply for its Gemini trackers, which traced back to the chip shortage." Meyers explains. "About halfway through construction they said we might not get these power supplies in time to meet commercial operation."
They collectively brainstormed a ton of options. Could they install the power supplies and fly the chips in later? Eventually all those options were deemed too risky so they got creative. Nextracker, Clearway and an independent engineering team worked to modify the Gemini design with auxiliary PV panels from Nextracker's Horizon product, design new parts and get the end-result UL approved and shipped.
"We were out there figuring out creative solutions that worked," Meyers says. "That was one of the bigger success stories that I've been a part of, just the team effort to make that happen."
End results
The site's 156-MWh battery system (126 lithium iron phosphate-based units) is four times the full capacity of the PV so that it can provide a full four hours of load shifting capacity to provide 39 MW of solar energy in the evening peak between 5 p.m. to 9 p.m., which is really when O'ahu's customers need it most.
It also shores up the grid until eight other clean energy projects come online in 2023 and 2024. Hawai'i used to get one-third of its oil from Russia, and now the state pays extra to source it elsewhere. As more PV comes online, these projects will insulate Hawai'i from the oil price spikes driven by international events.
"Renewable energy is critical to Hawai'i to be more affordable and resilient," says Governor David Ige. The state has a goal of 100 percent renewable energy by 2045, and Hawaiian Electric in particular is on track to hit 40 percent renewable energy by 2030. "We are a step closer to that goal today because of the Clearway team, which understood the urgency and stepped up to deliver their project ahead of schedule."