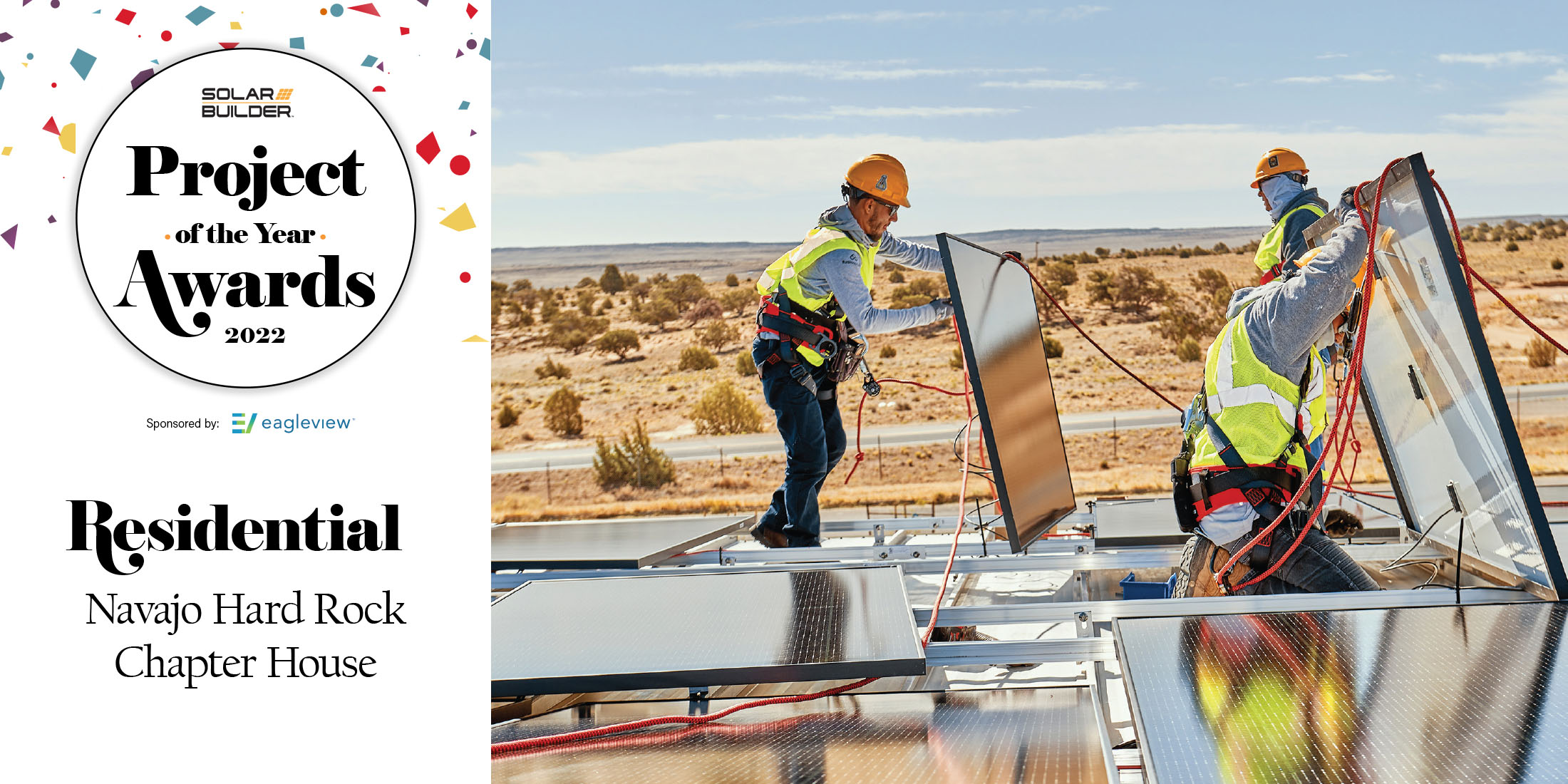 Navajo Hard Rock Chapter House
Black Mesa region, Ariz. | 18 kW + 36 kWh
Zoomed out, the 2022 Residential Solar Project of the Year, a 18-kW solar array and 36-kWh energy storage system installed at the Navajo Hard Rock Chapter House, is just one dot of progress on a backdrop of historic, widespread disenfranchisement.
About 14,000 Navajo families are still living without access to electricity, in addition to constantly having to oppose coal mining on their lands.
"We still feel the effects of the mining today," says Jay Begay, Hard Rock Chapter House President, Navajo Nation.
When you zoom in on that dot though, you'll see some very real impacts. This modest solar array and battery system will offset 100 percent for the Chapter House's needs (and electric bill) as well as provide a source of resilient, reliable power to a community that really needs it.
All progress has to start somewhere.
Empowering
The project was identified by Empowered By Light (EBL), a nonprofit that deploys renewable technology to empower vulnerable communities. Thus far, EBL has completed over 60 solar + storage projects in nine countries by partnering with other local nonprofits to find communities in which solar + storage would be an especially empowering addition.
"The Hard Rock Chapter has been disproportionately affected by the long running dispute between the Hopi and Navajo tribes and the coal mining industry over land and resource fights," says Moira Hanes, executive director and co-founder of EBL.
The community itself lacks a lot of basic infrastructure, and among the wider Navajo Nation, this community in particular stands out for how many homes do not have electricity.  What it does have is over 270 sunny days a year. The Navajo Nation is actually the largest contiguous premium solar resource area in the Western United States, according to ScienceDirect.
"This community had been pro solar for quite a while and asking for it," Hanes tells us. "They've been at the heart of pushing for a just transition from coal to renewables. That's why Empowered by Light really prioritized this above other projects."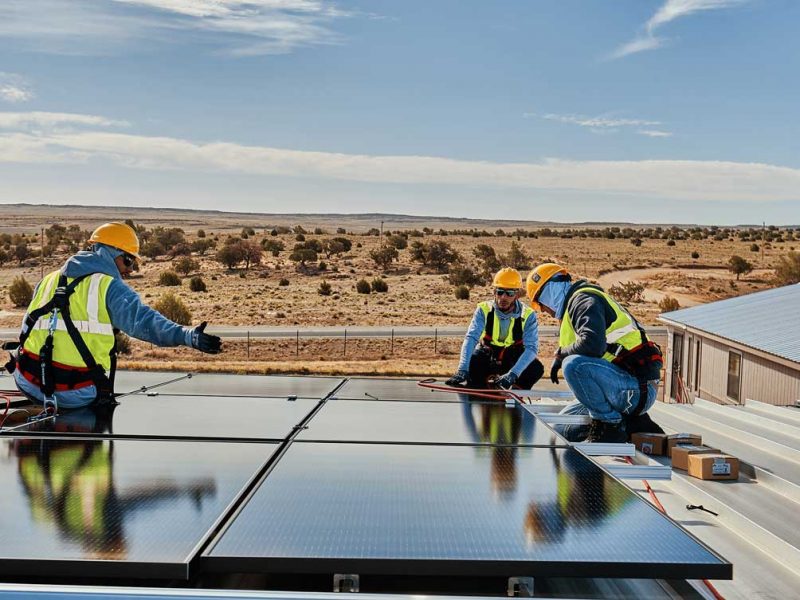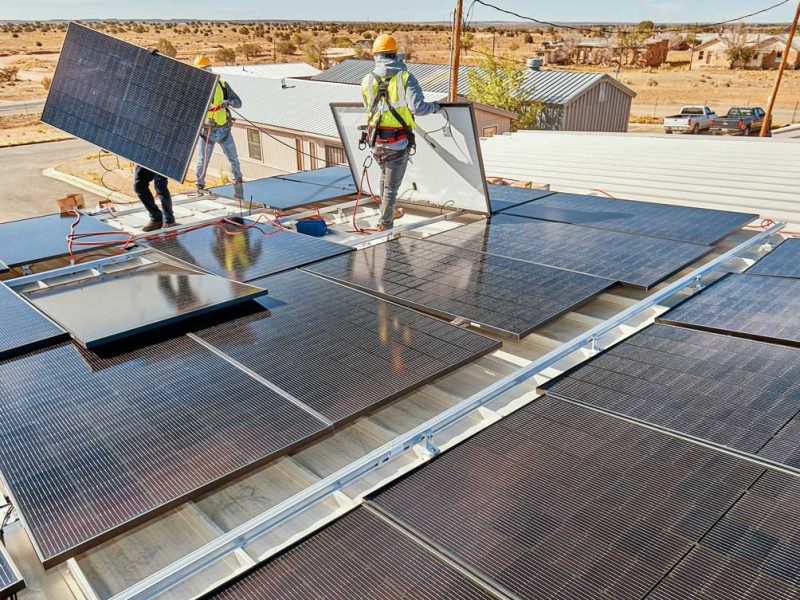 Chapter House is where the heart is
This Residential project award isn't for a traditional "residence," but a Chapter House is where many essential activities and services in the Navajo community live so that people on the reservation don't have to drive long distances for daily tasks, such as hay distribution, trash disposal, faxing, printing, notarizing and so on.
"The Chapter House is in a remote part of the reservation, and their community relies on the Chapter House for a lot," says John Gingrich, VP of business development with Sunnova. "This was a great application of the need for resilient power. Not only did they have a thirst for clean power, they wanted to have backup power in case of a grid outage."
For the project funding, EBL reached out to Sunnova, which not only agreed to fund it but also install it because one of its dealers was close enough by to help (Fusion Power). Sunnova also provided a 25-year Sunnova Protect service warranty for the entire system. That last part is no small commitment as the Fusion Power offices are four hours away.
But Gingrich hopes this is just the beginning of an even bigger commitment to the Navajo Nation from here.
"There will be an added cost because of the distance, but we hope over time we'll be able to install a lot of these systems in the Navajo Nation, and then that will make them easier to service and maybe we even employ some Navajo people to help service them," he says, noting they have a goal of solarizing 10 to 20 more chapter houses.
"There are a couple hundred chapter houses, so this is just scratching the surface, but if we can raise a little more awareness, we can lower the skepticism and open up the interest in solar for other businesses and residences throughout the community," Gingrich says.
"With this new project, we can finally shift to renewables and show our entire community the benefits and resilience of nature by harnessing clean energy from the sun to power our daily activities at the Chapter House, while combating climate change," Begay concurs. "Our community relies on the essential services provided at the Chapter House because we live in a very remote area. The Chapter's goal is to continuously develop these services, and with the extra bill savings from our new solar + storage system, we aim to do just that — expand and better our resources for the people we serve."